Mailing Address: P.O. Box 36, Mansfield Center, CT 06250

Phone: (860) 423-9008, Fax: (860) 423-6112

Office Hours

Tuesday - Friday, 9 a.m. - 1 p.m. (closed Monday)

Summer Hours (July 15-August 31)

Monday-Thursday, 9 a.m. - 1 p.m. (closed Friday)




Where Faith Takes Action!

549 Storrs Road

(Junction of Routes 195 & 89)

Mansfield Center, Connecticut

SUNDAY WORSHIP  10:15 a.m.

The Rev. Joseph Blotz, Pastor

Wendy O'Connor, Office Administrator

Erik Haeger, Organist

Linda Tracy, Interim Choir Director

Dawn Hoffman, Worship Circle Coordinator

You may be new to our community and looking for a church home,

or you may have been in the area for a while and

discovered our openness and warmth as a congregation.

In any case, we welcome you and

extend an invitation to join our church family.

Open to and Affirming of All



Contemplative Communion - We gather Thursdays at 12:15 for a brief contemplative communion service. We will engage in the ancient practice of Lectio Divina (a method of reading, studying, and praying Scripture), share prayers, and be fed at Jesus' Welcome Table… all in about 30 minutes. Take a break midweek, come, and be.

Willing to host a coffee hour?
Sign up here
. There are many dates available. It's a great opportunity to get to know someone while working together.
Sunday, January 20…

we celebrate the Second Sunday after Epiphany with stories of God's abundance and of water into wine. Following Worship, we gather in Fellowship Hall for a Second Hour on the budget to be presented at next week's Congregational Meeting and for Coffee Hour.

The passages from the second Sunday after the Epiphany show and tell about the glory of God. God is about to do a new thing. God is doing a new thing in Jesus of Nazareth in John 2:1–11. Isaiah 62:1–5 anticipates the new creation and new beginning for Jerusalem. 1 Corinthians 12:1–11 speaks in a new way about the gifts made manifest by the reception of the Holy Spirit in individual lives. In worship, learning, and serving this week, how might we encourage one another to be open to the new work, expressions, and signs of God? What might encourage openness to the surprise of God in the world around us?  (Seasons of the Spirit, pg. 133)

A Prayer…

God of the riverbank and the banquet hall, help us hear you and see you when you create, work, and teach, and heal in new places. Ready our hearts to welcome you and your work among us. Amen.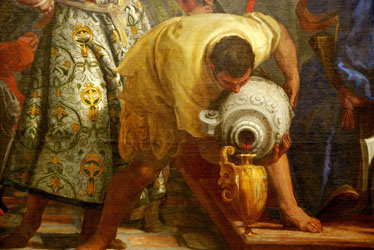 This Week...

Sunday, January 20

10:15am Worship and Worship Circle

followed by A Second Hour on the proposed 2019 Budget

Wednesday, January 23

1pm Book Group

Thursday, January 24

12:15pm Contemplative Communion

Sunday, January 27

10:15am Worship and Worship Circle

followed by our January Congregational Meeting

WAIM Grinder Sale. Sunday, January 20 is your last chance to purchase grinders to benefit the work of Windham Area Interfaith Ministry. Grinders are $8 and will be delivered Sunday, January 27… just in time for our Congregational Meeting!